ATTENTION: You can find current information on the new practice website of Dr. Elisabeth Aust-Claus
www.dr-aust-claus.de 
You can request appointments or order prescriptions directly from there at kontakt@dr-aust-claus.de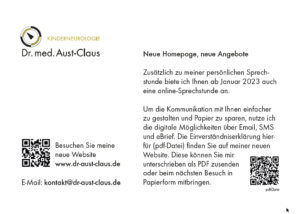 ***
We examine, test and treat children and adolescents with concentration disorders, school performance problems and partial performance disorders such as LRS or dyscalculia.

Among other things, we advise on:
For each illness or impairment, we discuss the causes with you, as well as efficient assistance. Individual, scientifically based therapy concepts ensure the compensation of the problems and the strengthening of special abilities.